We provide the best solution for your transaction needs. With our BCA Direct deposit method, you can easily and securely make a Rupiah deposit. Simply follow our provided guide and enjoy a smooth and pleasant transaction experience.
Via Website Indodax
Log in to your Indodax account through the website

www.indodax.com

.
On the left screen of your Indodax account, click the "Wallet" button.
From the asset name column, select "Rupiah", and then click the "Deposit" button.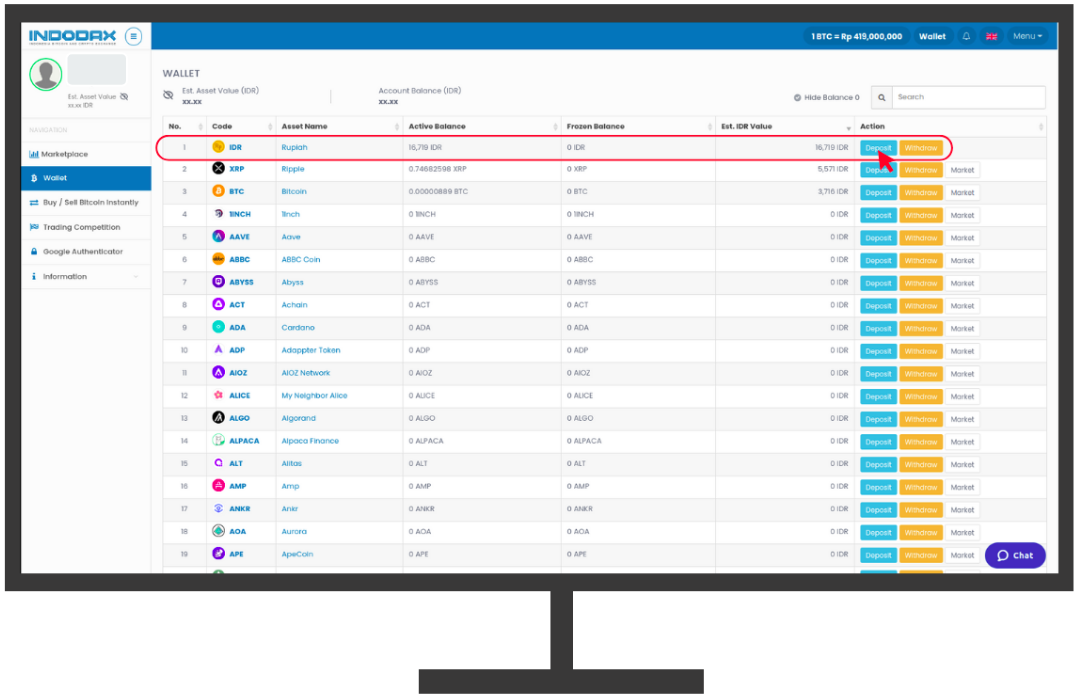 Go to the "Deposit Rupiah" menu and select the BCA "Bank Transfer" deposit method.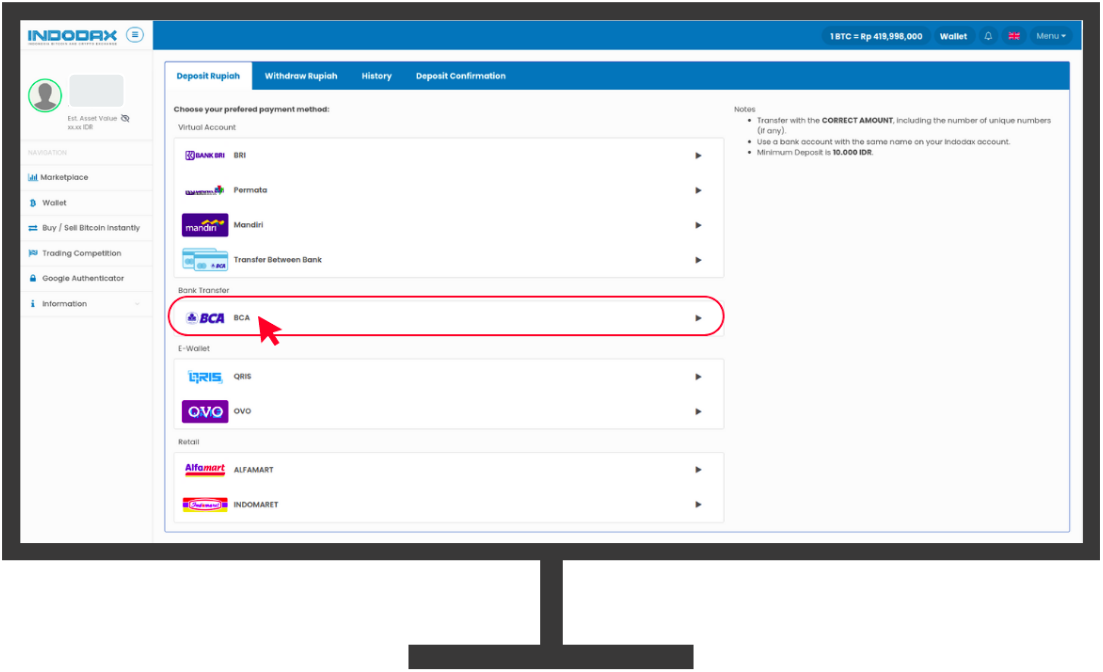 Fill in the required deposit amount, and then click the "Continue" button.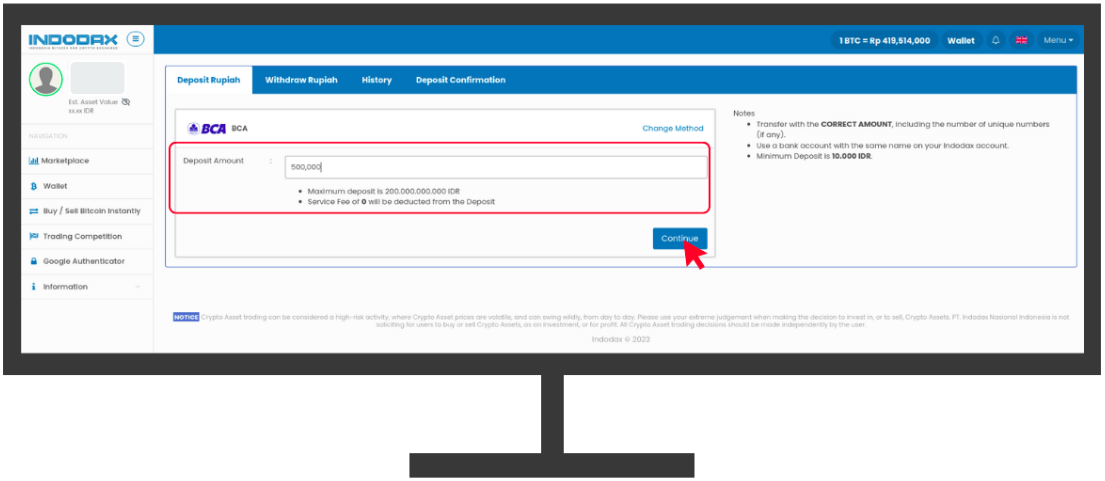 A nominal bill will be displayed on your screen, along with a unique number, the destination account, and a transfer guide.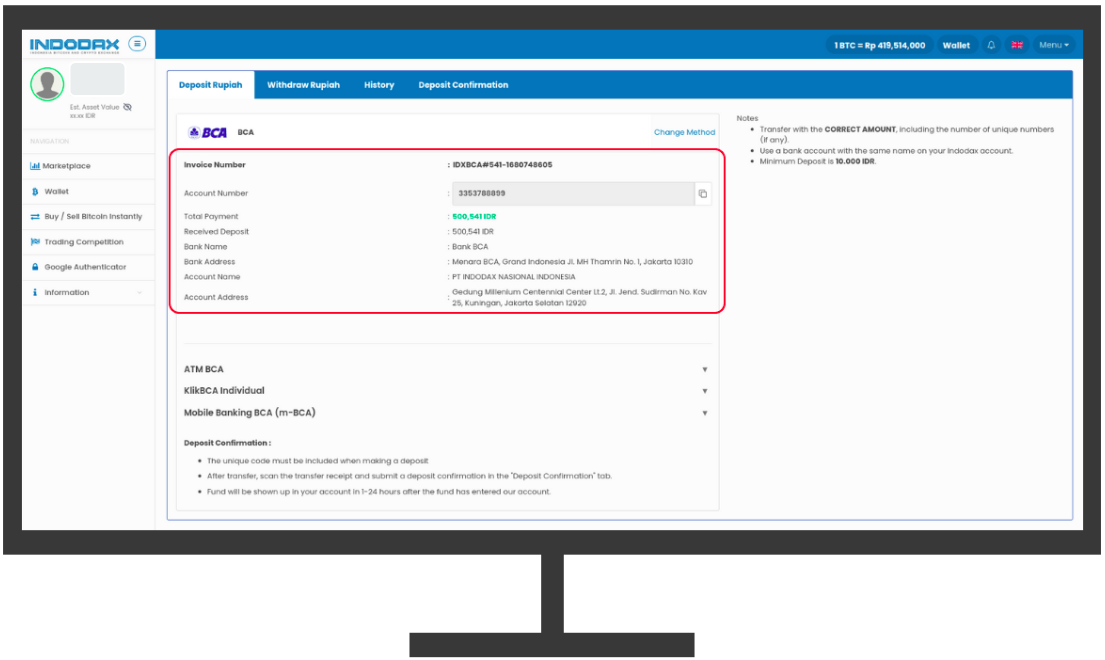 Transfer the exact amount listed on the nominal bill, including the unique code.
Once the transfer is complete, confirm your deposit transfer to complete the process.
Via Indodax App
To get started, log in to your Indodax account through the Indodax application.
Select the "Wallet" menu located at the bottom right of the application, or click on "Deposit" on the homepage.
On the Deposit IDR menu, select the BCA "Bank Transfer" method.
Enter the deposit amount, and click "Continue" to proceed.
Read the brief instructions on the BCA transfer deposit guide that appears, and then click "Continue Payment".
Copy the BCA account number and transfer the exact amount shown, including the unique number.
Once you have transferred the deposit, click the "Confirm Payment" button to confirm the transfer.
If your application is closed during the Rupiah deposit process, navigate to the "Waiting for Payment" menu in "Deposit IDR" to view deposit details.
IMPORTANT
To ensure that your deposit is processed correctly, transfer the exact amount listed on the generated deposit amount, including the unique numbers.
Use a bank account with the same name as your INDODAX account when making the transfer.
After completing the transfer, confirm immediately by uploading a photo or scan of the proof of transfer on the "Deposit Confirmation" tab if accessing the account through the Indodax website. If using the Indodax Application, confirm promptly by clicking the "Confirm Payment" button.
Follow this link for deposit confirmation instructions.

It usually takes 1-24 hours for your funds to be credited to your account once the transfer has been received.

Keep in mind that deposit services via BCA Direct are free of charge, but the sending bank that you use may charge different fees.